Artificial Intelligence (AI) research tries to model adaptive behavior in autonomous agents, which are situated in highly complex dynamic environments. One of the aims is to integrate a computational model of emotional processes within the architecture of embodied systems (interactive virtual characters). In this approach emotional systems are considered as systems that continuously monitor the relationship of an individual with its environment and instigated tendencies to act.
Although the implementation of emotion processes in such systems is highly sophisticated, none of these projects offer a convincing solution for the action expression problem (i.e. mapping behavioral output on emotions).
The workflow for this research has been established during the last three years. We have implemented a complete muscle system in a virtual 3D human face and are currently testing its validity in rating studies. We can also simulate human postures and facial expressions dynamically. This allows us to make realistic simulations of human non-verbal behavior.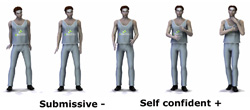 Reconstructed postures with regression of body angles on self reported internal states.